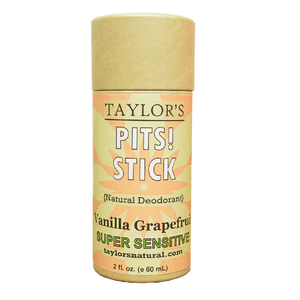 Taylor House
Taylor's Pit Stick- Super Sensitive
Regular price
$10.50
$0.00
This is our SUPER Sensitive Formula for those who have sensitve pits! Specially formulated for those who break out in rash & razor burn easily, this natural deodorant is full of powerful deodorizing properties.

This is our STICK version of our original PITS! Natural Deodorant in a convienent, biodegradable stick! No need to dip or use applicator, just swipe!

Perfect for the HOT summer months, this version's consistency is a nice, solid balm. Works just like our original balm, and comes in NEW SCENTS!

This natural deodorant is full of powerful deodorizing properties. Packed full of herbal infused Hawaiian oils, soothing shea butter & essential oils, it's no wonder customers rave about its effectiveness! Offers up to All Day protection. A MUST HAVE for anyone who doesn't want harmful ingredients in their PITS!

DETOXIFY your Environments, inside & out with TAYLOR'S Natural Ingredients & Leach FREE containers!


PITS! STICK - Super Sensitive by TAYLOR'S
All Day Protection.Free of no-no's.Effective
• 2 oz / 60 ml Biodegradable Eco Tube
• FREE OF NO-NO's: Pure * Natural * Organic * Scented w/ Pure EOs * Paraben Free * Fragrance Free * Aluminum Free * Plastic Free * Vegan * Raw * Paleo * Cruelty Free * Synthetic Free
• HANDCRAFTED & LOCAL: Made in the USA & as many LOCALLY sourced ingredients as possible.
• FIRST on Market: Est. 2010, TAYLOR'S was 1st to offer an All Natural, Herbal, Plastic Free, EFFECTIVE Deodorant
• HERBAL & PLASTIC FREE: Our Herbal Blend makes TAYLOR'S Natural Deodorant ultra powerful. Our Plastic Free Container is Leech FREE &
has a metal cap, making it the Healthiest & Safest for Your Body & our Shared Planet.
• VEGAN & CRUELTY FREE: Leaping Bunny Certified * Cruelty Free & VEGAN (Ingredients & finished products NOT tested on animals)

TESTED & EFFECTIVE since 2010 on Everyone: Athletes participating in Iron Man, Hot Yoga Instructors, Cross fit Athletes, Children, New Moms, Dads, Grandparents, hypoallergenic; everyone! Est. in 2010, we are experts when it comes to natural deodorant!

SAFEST & Most SUSTAINABLE: Plastic FREE means the SAFEST & most SUSTAINBLE to your body & our shared Planet. You NEVER have to worry about this harming your health due to leaching! Plus it's the most eco-friendly to our planet. BPA FREE is NO SAFER or better for our bodies or Planet! A MUST HAVE for anyone who doesn't want harmful ingredients OR chemicals from containers in their bodies & those who want the best for our Planet.

HERBAL Blend: TAYLOR'S PITS is formulated w/ an herbal blend full of deodorizing properties, making it a powerful natural deodorant. It also allows us to offer 2 versions: Full strength & Super Sensitive, so even the most sensitive can stay Natural.

High Vibes Healing: We infuse every single batch not only w/ our proprietary herbal blend, but with High Vibes & Intentions. Don't underestimate the power of High Vibes Healing!


Use On those funky, stinky, sweaty, irritated, razor-burned Pits & Feet of yours! Apply 1-2 times daily. Use sparingly (a little goes a long day). Repeat if necessary. If irritation occurs, use this deodorant on your feet & as the best shave cream ever! .*Your body can get used to our essential oil blends. Switch it up every once in awhile with a new scent & you should have no problem. Keeps things nice & balanced (;

Organic Raw shea butter, organic extra virgin olive oil, candelilla wax, organic rosemary, calendula, macadamia nut oil**, organic virgin coconut oil**, black seed oil, comfrey, lemon balm, rosemary, calendula, organic arrow root, essential oil blend (see below).

Vanilla Grapefruit EO blend: Pure vanilla bean extract, grapefruit
Balanced: Clary sage, lavender, rosemary
Earl G: Proprietory Earl grey tea blend of pure essential oils
SO Fresh! EO blend: Lavender, orange, tea tree, clary sage
Pumpkin EO blend: Cinnamon, clove
Keepin' it Fresh MINT EO blend: Peppermint, orange, lavender, tea tree
Hippie PITS EO blend: Patchoulli, rosemary, lavender, tea tree
Rose Vanilla EO blend: Pure vanilla bean extract, rose geranium
Feelin' Woodsy EO blend: Balsam fir, rosemary, tea tree, clary sage
Lemon Cedarwood EO blend: Lemon, cedarwood
Q: Will it stop me from sweating?

A: While this is NOT an antipersperant (you NEED & WANT to sweat, this is VITAL to your Body's health in releasing toxins from your
body), our formula does help you keep dry. Also, it will keep any bacteria growth away, which is what odors feed off of, so will
therefore reduce body odors.
**This product contains nuts, so if there is a known topical (not internal) nut allergy, do not use (this is super rare though).
---
More from this collection