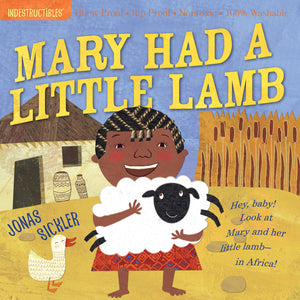 Indestructibles
Indestructibles Mary Had a Little Lamb
Regular price
$5.95
$0.00
Here is a book babies can really sink their gums into. Built for the way babies read, Indestructibles are printed on an amazing paperlike material that can't be ripped, torn, or punctured. Indestructibles are 100 percent safe and nontoxic, and if they get too funky, just throw them in the washing machine or dishwasher. They're made for baby to hold, grab, chew, pull, and bend, and are designed to create an even more special bond between reader and baby. Printed without words, the parent gets to make up the story, or just cuddle with baby while they explore together. 
Mary Had a Little Lamb
 introduces the work of Jonas Sickler, a children's illustrator whose paintings, full of detail and personality, have a fresh, whimsical sensibility, a pleasure for both baby and parents. The book gives a new spin on a traditional nursery rhyme, so parents can really have fun with the subject—
Mary Had a Little Lamb
 follows a girl and her lamb in her village in Africa. The text for the nursery rhyme is printed on the back cover.
---
More from this collection