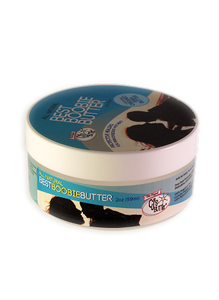 CJ's BUTTer
CJ's Best Boobie Butter
Regular price
$10.00
$0.00
est Boobie Butter is quite simply that; a must-have for nursing mothers. It helps to heal, soothe and protect nipples.
Get all of the healing benefits of Original CJ's BUTTer®, with the extra lanolin that a mother's delicate skin needs! Made from food grade ingredients, so there is no need to wash off prior to nursing.
100% Natural
Safe for both Mom and Baby
Uses:
Nipple Cream
Drool Rash
Excessively Dry Chapped Lips
Calluses
Deep Healing To Areas That Remain Moist Or Are Repetitively Exposed To Moisture
Package Description: 2 oz. Jar
Directions: Apply a pea-sized amount to the entire nipple area after each feeding and leave on to soothe and protect sore, dry, and cracked skin after nursing or pumping. It is not necessary to remove/wash off prior to breastfeeding. Warnings: Intended for topical application. No nipple cream is a substitute for a good latch. If irritation persists consult your doctor or lactation consultant. * These statements have not been evaluated by the Food and Drug Administration. This product is not intended to treat, cure, diagnose or mitigate the symptoms of any disease.
Ingredients: Organic Butyrospermum Parkii (Shea) Butter Fruit, Cocos Nucifera (Coconut) Oil, Olea Europaea Fruit (Olive) Oil, Lanolin Oil, Cera Alba (Beeswax), Theobroma Cacao Seed (Cocoa) Butter (Cocoa Butter, Citric Acid), Tocopherol**(Vitamin E). **Derived from soy
---
More from this collection