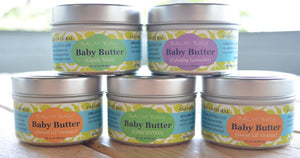 Taylor House
Balm!Baby Baby Butter
Regular price
$12.95
$0.00
Butter UP your little Butter Cup with this non-greasy, all over body Baby Butter! Available in Vanilla Grapefruit, Little Vanilla Bean, & Sweet Little Orange.

Made from nurturing oils from Hawaii & healing butters that will keep that soft skin it's softest! We add an herbal infusion to help relieve boo-boos!
Softening.Soothing.Relieving.
• 4 oz / 120 ml Recycled Aluminum
• Whipped to Perfection!
• Non-Greasy, Satin Feel!
• Pair as an ALL over Body Butter!
• Smells so good you'll want to eat it!
• Baby Safe
• Helps releive minor boo-boos!
• ALL Natural, Herbal, Organic, Paleo, Vegan
• Made in the USA (Sustainably Handcrafted)
• Cruelty Free (Leaping Bunny Certified)
• Gluten FREE
• Comes in Recycled Aluminum
• (Pretty Much, da BALM! Baby)

DROP BALM! Baby Baby Butter! © On your little Butter-Cup! We know it's so yummy you want to use it ALL right now, but hold back, a LITTLE goes a LONG way!
ALL ORGANIC Ingredients: Cocoa & shea butter, olive oil
infused in calendula & chamomile, Hawaiian coconut & macadamia nut oil, corn startch, vitamin e-T50 & pure ALOHA!

If you choose Essential Oils, ingredients will include a blend of any of the following: Lavender, Orange, Vanilla bean, Grapefruit, Peppermint
---
More from this collection