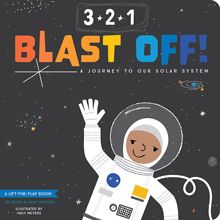 GibbsSmith
BabyLit 3-2-1 Blast Off
Regular price
$12.99
$0.00
Take your little one on a journey through space!
In this oversized illustrated lift-the-flap board book, toddlers embark on a journey through space. They'll visit the moon, the International Space Station, and Earth's neighbors in the solar system, seeing the Mars Rover, Jupiter's Red Spot, Saturn's rings, and more before coming safely back to their own beds in 3-2-1 Blast Off! A Journey to Our Solar System.
From the creators of Gotta Go, Buffalo! and the All Aboard series.
Haily and Kevin Meyers are the husband and wife team behind the dazzling baby product line, Lucy Darling (lucydarling.com). Haily's design work can be seen on their unique monthly sticker designs, nursery art prints, baby memory books, and multiple baby products. Their work has been featured in Pregnancy and Newborn magazine, Red Tricycle, Babiekins Magazine, Cool Mom Picks, KIWI magazine, Mollie Makes magazine, Fresh Style magazine, Mom Trends, HGTV Canada, and specialty baby shops worldwide. They live in Arizona.
---
More from this collection