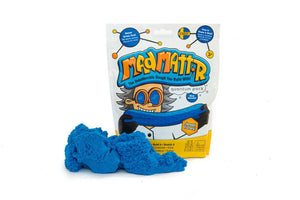 Mad Mattr
Mad Mattr - Quantum Pack - Blue Wonder (Jewel Tone)
Regular price
$10.00
$0.00
Mad Mattr is now available in vibrant Jewel Tone colors!
Kids of all ages love to stretch their imagination muscle with Mad Mattr! This super-soft building compound easily molds and shapes into endless creations, inspiring open-ended play. Cleanup's a breeze, and when molded and sculpted into any shape you like, its texture is incredibly smooth to the touch. You have to try it! Its unique, non-toxic formula is gluten, casein, and wheat free.

Available in five (5) color, this futuristic dough can be mixed together to create and build even more Mad Mattr fun. Each sold separately.
Features
Vibrant jewel tones!

Shape it, build it, stretch it, watch it flow

Molds and shapes easily!

Super duper soft!

Reusable! Never dries out!

Easy to Clean Up

Wheat, Gluten and Casein-Free

Comes in a re-sealable storage pouch.

Available in 5 colors. Each sold separately

10 oz.
---
More from this collection