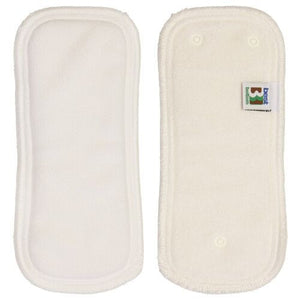 Best Bottoms
Best Bottoms Newborn AIO Bamboo Inserts
Regular price
$5.20
$0.00
Best Bottom All-in-One Newborn Insert Features
Best Bottom Heavy Wetter All-in-One diapers come with a one-size, snap-in insert which can be tucked under itself for use with smaller rise settings. However, to help you get a trimmer fit for newborns using the smallest All-in-One rise snaps, we've created a special newborn insert to swap in for the included one-size insert.
The All-in-One Newborn Insert combines the natural absorbency of Bamboo with the super soft comfort of Stay-Dry fleece. The insert consists of 6 layers of bamboo viscose, topped with 1 layer of no-pill fleece.
Best Bottom Washing Instructions
Oh so easy!!
Prior to first use, wash and dry inserts (and Heavy Wetter All-in-One shell) with detergent 3-5 times for full absorbency.
Remove solids
Reuse the shell until soiled or wash day. Separate shell from insert before washing. Fasten laundry tabs (if applicable).
Do a cold rinse or cold quick wash (no detergent).
Warm or hot (not sanitary) full wash with additive-free detergent (use detergent's recommended amount). Use the most amount of water possible.
*Tip! Throw a soaking wet towel into your washing machine to "trick" it into using more water.
Extra rinse.
Inserts can be tumble dried. Shells should be line dried or tumble dried on low heat.
*No fabric softeners, dryer sheets or additives such as bleach, vinegar, baking soda, washing soda, borax, oxyclean, etc. should be used.
**Rash creams can only be used with a barrier between baby and the diaper.
***We know that additive-free detergents work and are least likely to cause any problems with your diapers. However, we have done extensive testing with

Tide Original

and know that it works with our diapers.
We recommend washing every 2-3 days. We have found that the Best Bottom system washes beautifully as it takes up less space in your washing machine allowing more room for agitation getting your diapers super clean.
---
More from this collection