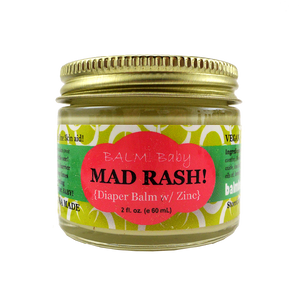 Taylor House
Balm!Baby Mad Rash
Regular price
$11.99
$0.00
Herbally infused with Natural Waterproof Protectants and soothing skin oils, our Natural Diaper Rash Balm also doubles as a Sunscreen with added Zinc! Protects against crazy diaper rash from Buildup in diapers / Food allergies / Teething / etc.! NO reaching for 2 different products while changing Mr. or Mrs. Squiggles! Yay! Use a liner when treating mad diaper rash on cloth diapered babies.


Natural.Protecting.No need for prescribed chemicals.
• Customer say one of the BEST Diaper Rash Treatments out there!
• 2 oz / 60 ml Glass Jar
• ALL Natural, Herbal, Organic, Paleo, Vegan
• Made in the USA (Sustainably Handcrafted)
• Cruelty Free (Leaping Bunny Certified)
• Gluten FREE
• Stored in GLASS (leach-free; safest container option, esp when containing oils; please educate yourselves; BPA-FREE plastic is NO better or safer) Glass is the safest, healthiest & most eco container for our planet & bodies. We offer only the best & safest!
• Multi Purpose 1st Aid "Everything" Skin! Tried & Tested TRUE on 100's of Families!
• (Pretty Much, BALM! Baby)
DROP BALM! Baby MAD RASH! On Baby got Mad Rash from build-up in cloth diapers, teething or sickness. Also great on other owies that need moisture protection. Also, use on skin about to have fun in the sun!

CAUTION: Stay away from eyes & mouths on this one!
WILL STAIN: Always use a liner when treating Mad Rash on CLOTH Diapered Babies.
Extra virgin olive oil, chamomile, chickweed, calendula, comfrey, Hawaiian macadamia nut oil, virgin coconut oil, non-nano zinc oxide, shea butter, candelilla wax, tocopherol (vitamin e), St. John's wort, essential oils of: lavender, orange & tea tree.
---
More from this collection