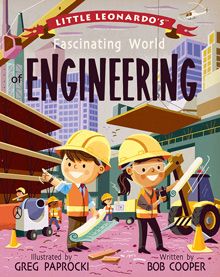 GibbsSmith
BabyLit Little Leonardo's Fascinating World of Engineering
Regular price
$12.99
$0.00
An introductory primer for kids focusing on the "E" portion of "STEAM" : engineering.
With original Renaissance man Leonardo da Vinci as inspiration, this exciting new volume in the Little Leonardo series introduces kids to many of the different types of engineering they can aspire to. Littles will learn how nine types of engineers design and build all sorts of things, from the tiny microcircuitry in your smartphone to large projects like dams and bridges that transform the very face of the planet.
Part of the Little Leonardo's Fascinating World Series.
Greg Paprocki works full-time as an illustrator and book designer. He has illustrated several Curious George books, as well as the BabyLit alphabet books and The Big Book of Superheroes.
Bob Cooper is a veteran editor whose twenty-year career has found him working on everything from comic books to art, architecture, and children's titles.
---
More from this collection