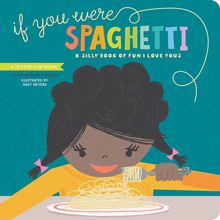 GibbsSmith
BabyLit If You Were Spaghetti
Regular price
$12.99
$0.00
If you were spaghetti . . . I'd be a meatball!
This fun and interactive board book is chock-full of entertaining ways to let the little ones in your life know that you love them and you'll always be there for them, just like the classic pairings of spaghetti and meatballs, bathtubs and bubbles, or ice cream and sprinkles. Colorful pages with the Haily and Kevin Meyers' adorable artwork, fun text, and liftable flaps hiding extra illustrations are sure to catch toddlers' curiosity and make If You Were Spaghetti a special favorite.
From the creators of Gotta Go, Buffalo.
Haily and Kevin Meyers are the husband and wife team behind the dazzling baby product line, Lucy Darling (lucydarling.com). Haily's design work can be seen on their unique monthly sticker designs, nursery art prints, baby memory books, and multiple baby products. Their work has been featured in Pregnancy and Newborn magazine, Red Tricycle, Babiekins Magazine, Cool Mom Picks, KIWI magazine, Mollie Makes magazine, Fresh Style magazine, Mom Trends, HGTV Canada, and specialty baby shops worldwide. They live in Arizona.
---
More from this collection